First, thanks to the forum for great ideas.
Like everyone, I was searching for a sewer hose storage solution.  I added an expanding storage tube to the bottom of the Yakama tracks, giving me a 65 inch tube.  I wanted to move the crossbars up a few inches, but found that the factory installed lower towers are screwed into the trailer and can't be moved.  I think this because the vertical installation would slip using the Yakama nut plates.  I used the extra nut plates and shorter socket screws on the top of the holder and added a screw through the track endcap and sealed it with silicon.  I got the 20' Rhino kit and cut about 4' off one of the 10' sections.  (I don't know if the 15' Rhino with a different connector will fit inside the tube.  If so, that would be easier.)
Next, the DeWalt toolbox.  I ordered the taller one, which won't allow the lid to open all the way, but I can get tools, electrical cable and water hose in and out.  The advantage of the tall box is that the lid is above the back of the Outback tube, so the box can be mounted flush with the tube using U bolts. This means the box can't be unbolted when the box is locked.  I added two bolts with large washers on the bottom for stability.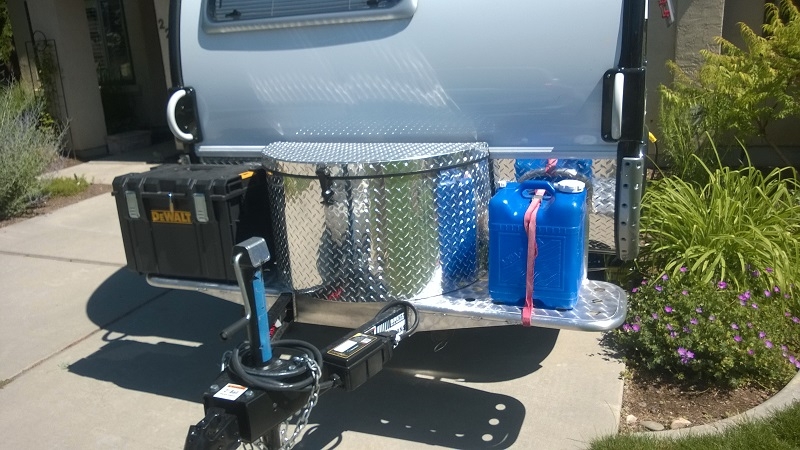 Lastly, I used a river rafting strap to attach a 7.5 gallon water jug.  I was going to use two smaller jugs to make filling the trailer easier, then I realized that if I put the jug on top of the propane box, I can use a short tube to fill the trailer with no lifting.
Thanks again for all the ideas!
2017
[email protected]
320 Outback (IdahoTabato) pushing a 2016 Volvo XC90