"An adventure is only an inconvenience rightly considered. An inconvenience is only an adventure wrongly considered." ― G.K. Chesterton

I just returned from a glorious 23 day trip that did not go exactly as planned. Although snow is a possibility any time you visit the Rocky Mountains, and especially if planning a fall trip, it is not exactly a common experience. Over the past 10 years I have occasionally encountered snow, but nothing disruptive. For those of you who know me, you know that I relish having my trip interrupted by snow. This year I got my wish in major ways.
Chuck & Kathy
My second cousin and mid-west
[email protected]
, Mary
I had a very pleasant drive out, spending a night mooching-docking with Chuck & Kathy in Indiana, who had been my uCamp neighbors, having coffee with fellow
[email protected]
and recently discovered second cousin, Mary Darrow and her husband in Ames, IA, and then finally landing in the Tetons, where my friend and fellow
[email protected]
, Kim, met up with me. I boondocked in the national forest, where I enjoyed stellar views (see Campendium.com for more details) in an open area with a front row view of the Tetons and a wide open space that gave Rocky a lot of space to play frisbee at full tilt. This particular area is piloting a program with volunteer hosts to help keep the site clean and free from some of the problems that popular sites in Colorado have faced.
Here is a video of Kim arriving in the Tetons with her
[email protected]
: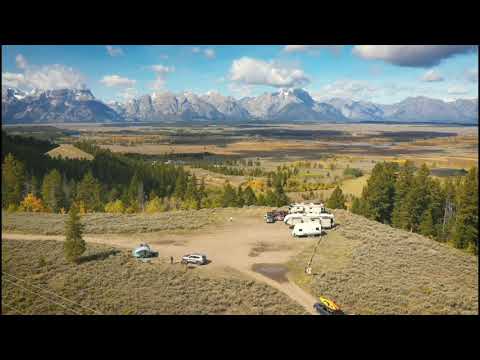 When Kim arrived, we discussed the impending storm and worked our way northward, through Yellowstone, spending a night mooch-docking at the beautiful home of a friend of Kim's, that overlooked Helena, MT. This is where I first, I learned that we needed to shift our plans to camp in Two Medicine Campground in Glacier National Park due to an early season blizzard. I spoke with a couple locals who advised that West Glacier was the right place to go, and so I stocked up at the Helena Walmart, including the purchase of a shovel, and began the very scenic drive up to Great Falls, than Vallier, over Marias Pass, and into West Glacier.
Glacier Campground in West Glacier, MT
I took my
[email protected]
and my sister-in-law changed their RV rental through Outdoorsy, to Glacier Campground, just outside of the Apgar entrance to Glacier National Park. This was a beautiful, wooded campground with very private sites. The owner seemed to be amused by our enthusiasm to camp in this weather and graciously allowed us to stay past their closing date and gave us discounts! This campground is feels more like a forest service campground with hookups than a commercial campground and if camping in West Glacier and you need hookups, this place is wonderful. All in all, we received no measurable snow in West Glacier but it was an easy place to camp and make day trips to the snowy areas. While in Glacier, the temps took a major dive, below 20 degrees at night and in the 20's during the day.
Next, we traveled to Banff, where I camped at the Lake Louise Campground. This campground reminded me more of some of our busier NPS campgrounds where you are very close to neighbors with little privacy. Temperatures remained quite cold, and below freezing. Snow squalls followed us pretty much the entire time we were in Canada and it did not warm up until the day we left Canada. We took a quick drive up the Icefields Parkway, I camped a night at Wapiti Campground in Jasper, and then back down the parkway for a night at Tunnel Mountain II before our return trip to the US. While at Tunnel Mountain, I had the pleasure of meeting up with
[email protected]
, Jennifer Tipping-Paulin and her partner, Scott. There were 4
[email protected]
and a
[email protected]
in the campground that night!
While at Tunnel Mountain, I learned that another major snowstorm was expected to hit Montana and the plains. When we returned to West Glacier, I realized I needed to make my way east if I wanted to be back at work on Monday, the 14th, so I headed towards Billings, first, then to Spearfish, SD. My logic was to get as far east as reasonable before the high winds arrived. I arrived on Tuesday, with near 80 degree temperatures and secured a spot at the KOA, which weas the only campground open this late. I had electric, sewer, cable, and wi-fi and access to the single bathroom in the office. The staff was rushing to get the water lines cleared and dealing with a broken air compressor. Temperatures plummeted on Wednesday and were in the teens by Thursday AM. The winds arrived on Wednesday, and I was glad to be stationary after dealing with high winds while driving from West Glacier to Billings. I had high winds on every part of my return drive until I reached Elkhart, IN, where it was still breezy, but not nearly as difficult as the winds on the plains.
Icefields Parkway and Glacier Hyperlapse: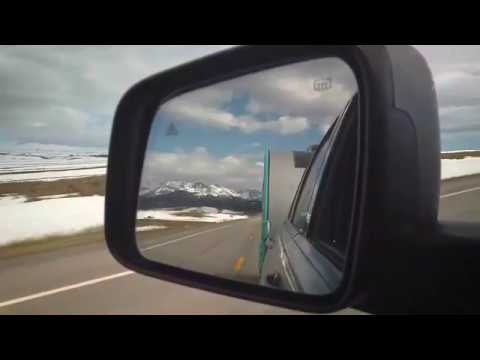 I departed Spearfish on Friday, pulling out of the snow, easily, with my Jeep, and headed east on I-90. I thought it might be nice to make a stop at the Badlands, but the road to the entrance was more snow-covered than not, so I turned around and headed east, where I lost count of how many semi's and cars I saw in the median from the westbound lane. The highway had frequently iced over from the wind blowing the snow and the high winds had toppled many high-profile trucks. I contemplated pulling over, but I deduced that all the mishaps seemed to be impacting westbound traffic and that the
[email protected]
was significantly lower in profile than what I had seen. I also had to keep moving to make it back for work, so I pressed on to Sioux Falls, SD, where I tried my hand at another KOA. I wanted shore power so that I could warm up the
[email protected]
as quickly as possible. It was not a great KOA. Practically right on I-90, there was substantial truck noise, all night. However, I did get the
[email protected]
all toasty, despite being caked in frozen slush from my Badlands excursion.
When I departed Sioux Falls, I was disheartened to see that the snow and high winds were following me into Minnesota, so at Albert Lea, I headed south into Iowa, where the weather followed me for about an hour, before gradually warming up into the 50's. Energized by clear roads, I kept going until I reached The Cracker Barrel in Elkhart, IN, just before they closed to pick up my take-out dinner order and retreat to the
[email protected]
to warm it up and give Rocky his supper, too.
Today, I wrapped up another wonderful
[email protected]
trip. Almost 7,500 miles, 23 nights, including exceeding my 200th night in the
[email protected]
, 8 US and Canadian National Parks and the Icefields Parkway, 8 other
[email protected]
, and a whole lot of great memories, later, I can happily say it was a wonderful trip.
So, now, the burning question: did I winterize? Nope. Here are the important details:
1. First and most importantly: I have a 5 gallon freshwater tank that is inside. That means I was able to keep that cupboard door open and everything was good.
2. I kept the bathroom door ajar.
3. I used the sink, shower, and toilet, but kept RV antifreeze in the p-traps, especially starting in Spearfish.
4. I kept the bed made to allow the warm air to circulate more freely.
5. I kept the
[email protected]
heat higher than I prefer (remember, I like it cold.)
So far, I have discovered no apparent damage. It was a calculated risk to use the
[email protected]
plumbing without winterizing and I cannot comment on whether you would have similar experiences or not, especially with the outside freshwater tanks.
My apologies that the photo resizer seems to have crushed the image qualities of the photos. You can see higher resolution on either my or Rocky's Instagram accounts (
@jenngroverphotography
@haverockywilltravel)