Hello,
Have been following this forum for several months and found the range of topics with informed member discussions/answers very helpful as I begin the 'travel trailer new buyer' learning curve. This is one of the best User Forums around . . . interesting, polite, informative, and mostly on-topic discussions. The forum was a factor in my selecting the TAB 320 S.
Thanks to all contributing members.
My camping days were many years ago. A combination of tent and back of pick-up truck camping for young family weekend adventures or fall deer hunts. Then we got the boating bug and shifted to trailer sailboats and finally to an in-the-water recreational tug style 6-Knot "getting there is the adventure" boat. With 30 some years of boating on boats that had basic RV systems (electrical, plumbing, heat, cooking, refrigeration) am feeling confident the transition to travel trailer adventures will go smoothly. Plus I've even got a few years of trailer towing experience . . . enough to know 'surge brakes' are a pain, proportional controlled electric brakes a blessing.
A deposit was placed yesterday on a 320 S with pitched axle, 15-inch wheels, and the boondock platform. Hope to hear factory confirmation before the holiday and am planning for a mid-March delivery. Almost purchased an on-the-lot 320 S Boondock. Decided on an order to get the Alde 3020 (high altitude mode included) as most of my western state adventures will be near or above 3,500 feet. Ordering also allowed getting just the boondock package items of most value to me. . . . function over styling.
Like so many members have noted on their own trailer searches I started by researching/viewing A-Frame products, was surprised on seeing a TAB, then shocked on seeing the MSRP, so continued a wide and long search for smaller size light weight trailers. As the search progressed the 320 and 400 remained on my short list. Other brands came and went while TAB remained with only the order of which one is best for me changing (frequently).
Having towed boats in the past it was important for me that all possible travel trailers be well below my tow vehicle maximum rating for CGVR, Trailer GVW, tongue weight, frontal area resistance when fully loaded for camping.
Many of the forum threads are discussions about selecting/using a tow vehicle that places the tow vehicle near, at or above it's rated limits using just trailer dry weight data. That is a scary approach.

RV Safety & Education Foundation, [RVSEF] has real world rig weight data that suggests 50% of the travel trailer rigs on the road today are overloaded on at least one specification; CGVR, TV rear axle, trailer axle, or tongue being the most common problems. All impact vehicle life and performance and can be a real safety issue in an emergency. RVSEF web-site is rvsafety.com
Below analysis was done for each of the trailer brands/models on my short list. 320 was of course the lightest but even then TV rear axle loading is pretty high. I don't expect a weight distribution hitch will be needed but have budgeted on rear axle helper springs if TV leveling is needed. Was also surprised how quickly the TV cargo weight increased as more 'might need' items get thrown into the TV. All the other short list trailers were similar to the TAB 400 numbers . . . not that much heavier for their increased volume.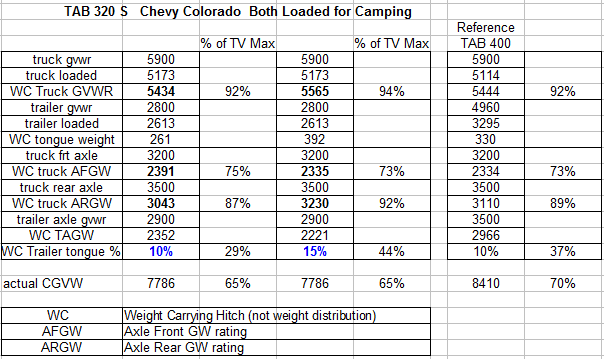 After all the dealership visits, web research, and personal analysis which more and more became a method to convince myself the higher MSRP would be worth it the final decision came down to . . .
Quietly sitting/being in a 320 S. Working my mind & body through a daily routine, do I feel cramped or not? Then I discovered if my shoes are off I Can Stand Up Straight (within a small range of space) and all of a sudden the 320 felt right.
Very hopeful I've made the right selection for me (most adventures will be solo).
Am over budget, But if I don't spend it the kids will . . . . .
TV with 320 and 400 Views

Possible Air Flow
Possible Frontal Drag
Home base will be Washington State.
Bye for now.

2018
[email protected] 320 S
,
pitched axle
TV: 2017 Colorado V6 Z71 4x4, Tow Package, Factory Trailer Brake Controller
Craig - - Puget Sound, Washington
Adventures: 7 Nights: 16