I used to think bus bars were often for those obsessed with neatness and unnecessary for just a few connections. However, after adding solar power, a battery monitor and a charger to our electrical system, our battery now looks like this..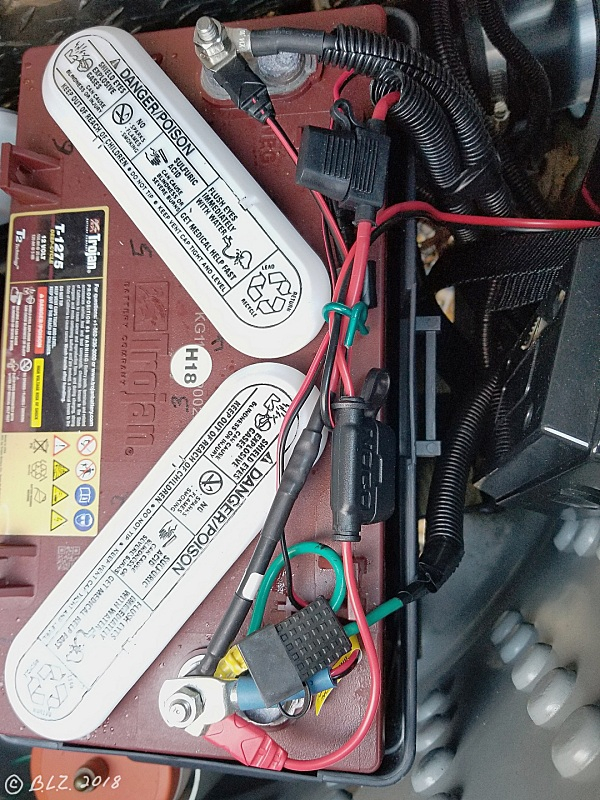 I expect this tangle of wires with no less than 3 fuses attached will make things a bit unwieldy when it comes to battery maintenance & cleaning. Plus, there are a couple more negative post connections already moved to the monitor shunt in addition to these.
So, in anticipation of cleaning up this mess, I am making plans to add buss bars inside a separate junction box, and move most of these wires & fuses there.
I got two of these mini bus bars, a pair of 2-ft 6-gauge cables, and this junction box to house all the extra battery connections.
● Blue Sea Systems 2315 MiniBus 100...
https://www.amazon.com/dp/B000OTJ8A0
● ONLINE LED STORE 7-Port Trailer...
https://www.amazon.com/dp/B07G8S9ZCB
● 6 AWG 6 Gauge Single Black 2 feet...
https://www.amazon.com/dp/B0721GBGGL
● 6 AWG 6 Gauge Single Red 2 feet...
https://www.amazon.com/dp/B072MWHC1T
Our tub has gotten quite full with all the additions, so this is the only space left..
There is already a similar junction box holding the shunt wiring for the battery monitor, which I plan to reposition a bit to the left to make room for a second box..
I plan to use some metal brackets to hang them as shown by this digital clone, the only way I could find to fit them both close to the battery box. I'll try to fit the fuses inside the box too.
Finally, here is my wiring plan showing how all three components will be rewired.
I drew in the new wire connections at the bus bars, each keyed to a number label on the existing old connection locations..
The blue connector (4) on the battery pos terminal is the battery temp sensor/shunt power lead, which will remain on the battery, the only other battery connection besides the two 6G black & red cables from the shunt/buss bar boxes.
(for size reference, I put a 6" white ruler inside the bus bar box, but the 3 photos in this composite are not shown at the same scale)
I may not actually get this project done until after warmer weather has returned, when those wires will not be so stiff & easier to reroute. Please let me know if you see any issues with this setup, as I have plenty of time to make changes.
-Brian in Chester, Virginia
TV: 2005 Toyota Sienna LE (3.3L V6)
RV: 2018
[email protected]
320S, >60 mods