----------
Moderator Note: A PDF version of this popular post is available in the User Manuals/PDF files/Videos & Resources Category. The original thread has been restored here.
----------
Here are some photos and brief descriptions of fuses, breakers and reset buttons on
my [email protected]  
(your's may differ!).  The photos start from outside and work their way in.  These are simply locations and descriptions.  I'll leave it up to the electrical Einsteins on this forum to add any additional information as to how they work and what they mean.  Hope this provides some useful information for our Newbies.
30 amp inline blade fuse at the battery in the propane tank:
Inline blade fuse at the battery in the propane tub:
30 amp blade fuse at the battery in the propane tub: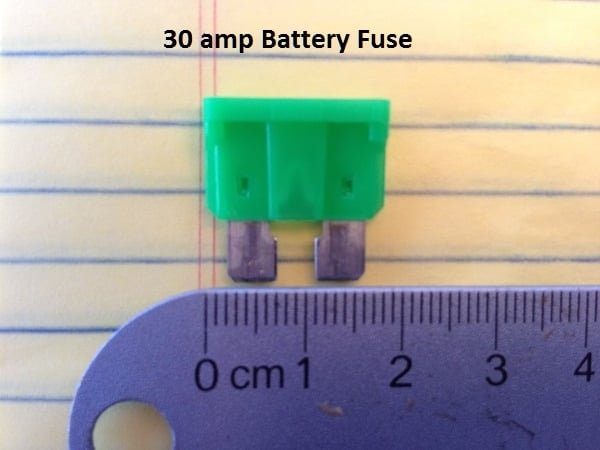 Power converter cover on passenger seat pedestal:
Circuit breakers and fuses in the converter.
Fuses in converter. Note 15 amp fuse for the fridge in F2 location has been pulled.
Label inside converter.  Top line says "#1 Fan . . . .  10AMPS"
Alde unit is located under the seat cushion.
Location of black plastic cover on the Alde.  Fuses located under cover.
Black plastic cover snaps off.  Fuses located within.
Location of fuses with black plastic cover removed (in two green holders):
Alde fuses in plastic holders in unit.  Note open space under fuses where they could be lost forever!
Smart to put a piece of paper or cardboard under them before removing.
Left and right Alde fuses in plastic holders:
Left and right Alde fuses out of holders:
Alde fuses are...
F3.15AL Fast-Blow Fuse 3.15A 250V Glass Fuses <---  Factory Recommended

Fuse is located on this Jensen unit.  Must remove four screws to access.
Location of fuse on the Jensen unit (pliers needed to remove fuse):
Large blade fuse located on the Jensen entertainment unit:
Location of inline fuse on cord to television:
Television inline fuse holder behind television:
Television fuse in cord behind Television:
CO2/Propane detector on seat pedestal:
CO2/Propane detector inline fuse in seat pedestal behind detector:
Fuse location for ceiling fan:
Smoke detector takes a 9V battery.  Air conditioning unit has a reset button:
Reset button for 110V cabin outlet outside outlet:
And finally, CO2 and fan:
The Norcold Fridge fuses - Cooktop removed - Red arrow shows fuse location:
Fuses covered with little caps...
The End
2016 Outback 320 with a 2010 Ford Expedition.